Wild Mushrooms Stew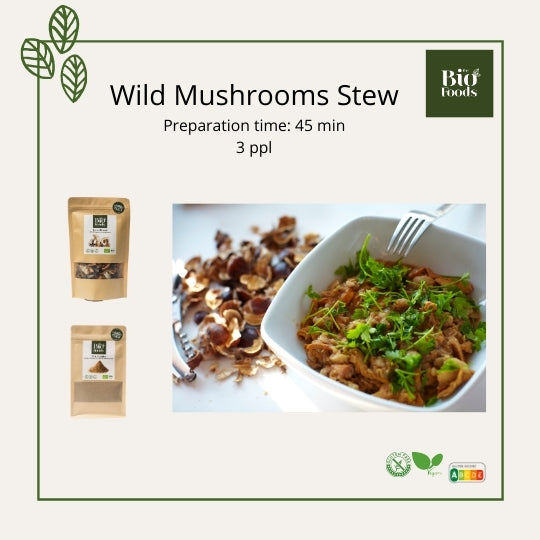 Ingredients
50g Dried Wild Mushrooms -Mix
1 onion diced
1/2 tbsp tomato paste
2 peeled and chopped tomatoes
1/2 tbsp all-purpose flour (optionally gluten-free)
2 garlic cloves
2 tbsp chopped parsley
1/2 tbsp butter (optionally lactose-free)
Salt/ Pepper/ Thyme/ Rosemary / Wild Mushrooms Mix Powder

Steps
Wash the wild mushrooms and cover with water (for 15 minutes). In a wide pan, a bit of olive oil over medium high heat. Add onion, season with salt and pepper (7-8 minutes). Remove from the pan and set aside. Add 1 more tbsp oil (medium heat) and add mushrooms without water. Reserve 1 cup of water. Add thyme/rosemary and tomato paste. Add tomatoes, stir well, and cook for 1 minute. Sprinkle with 1/2 tbsp flour, stir to incorporate and cook for 1 minute more. Add reserved onions. Add 1 cup of reserved water and stir until thickened, about 2 minutes. Adjust seasoning and add 1 tbs mushrooms powder. Add butter, garlic and parsley, stir to coat and cook 1 minute more. Accompany with polenta or pasta if you wish.