Autumn Soup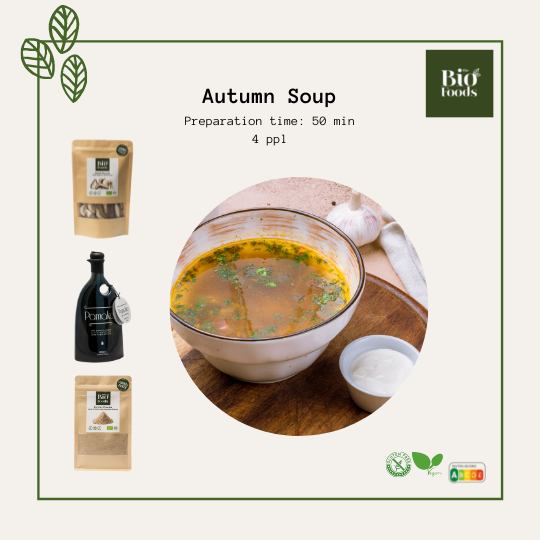 Serves 4 ppl * Preparation time: 50 minutes * Healthy Flavour
Ingredients
40g Dried Porcini
200g Fresh Button Mushrooms (sliced)
1/2 cup chopped/minced shallots
3 garlic cloves (minced)
6 tbsp plant butter
1/2 cup gluten-free flour
4 cups vegetable broth
Fresh parsley, dried thyme, salt, pepper, porcini powder
Optional: cooking cream

Steps
Firstly, rinse dried mushrooms and then put them in a bowl with 3 cups of hot water to cover; soak for about 20 minutes. Drain porcini and reserve soaking liquid - 1 cup.

Melt 3 Tsp butter in a large pan over medium-high heat; once the butter is hot, add shallots and sauté for 7-8 minutes. Add minced garlic and fresh mushrooms. Lower the heat add dried porcini and cook for about 10 minutes. Then add 1 cup of reserved dried mushrooms water, remaining 3 Tbsp butter and flour. After 3 minutes, add vegetable broth and stir until well incorporated. Cook for another 15 minutes. Stir in cream.

Season with salt, pepper, porcini powder, dried thyme and fresh parsley.

Garnish idea: premium high-quality EVOO Pamako Blend/Monovarietal.