Pamako - One of the 9 best Organic Olive Oils to buy in 2022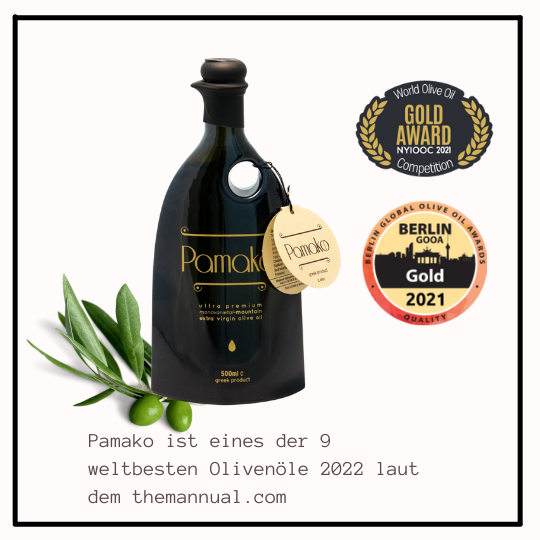 Category Best Luxury olive Oil 2022: Pamako Monovarietal Mountain Organic
Variety: 100% Tsounati variety, fresh and fruity aroma with strong spicy elements. It's as smooth as satin, with many healthy benefits and certified organic.
To preserve all the healthy benefits, this Greek oil is packed in murano glass dark bottles with a mirrored outer layer so that light cannot affect the quality of the olive oil. To keep the flavour of the olive oil well, the bottles are sealed with the best natural cork with an oak finish and there is no plastic to interact with the oil.
It is the first olive oil to be certified as a dietary oil food supplement after a long study because of its high polyphenol content. Therefore, doctors can prescribe it as a dietary supplement for certain reasons, such as lowering cholesterol, protecting against oxidation and lowering high blood pressure.

The levels of oleocanthal and oleacein in Pamako are well above average. Recent scientific studies have linked oleocanthal and oleacein to anti-inflammatory, antioxidant, cardioprotective and neuroprotective activity. According to the level set in European Union Regulation 432/2012, the amount of hydroxytyrosol derivatives in Pamako olive oils exceeds 5 mg per 20 g of olive oil. Consuming 20 g of Pamako olive oil per day thus achieves health benefits by protecting blood lipids from oxidative stress.
This ultra-premium olive oil has won all kinds of awards from year to year - multiple awards with more than 100 national and international awards for its unique organoleptic properties.

Drizzled over a bread, hummus, eggs, on pasta & pizza, but also with roasted vegetables or on the top of any other dish -> It is a real culinary experience. Recommended intake: A spoon in the morning before the breakfast.
Pamako Olive Oil is a pure liquid gold. 
Worldwide Shipping & Special Price 
Pamako - One of the 9 best Organic Olive Oils to buy in 2022 according to themanual.com