Mushburrito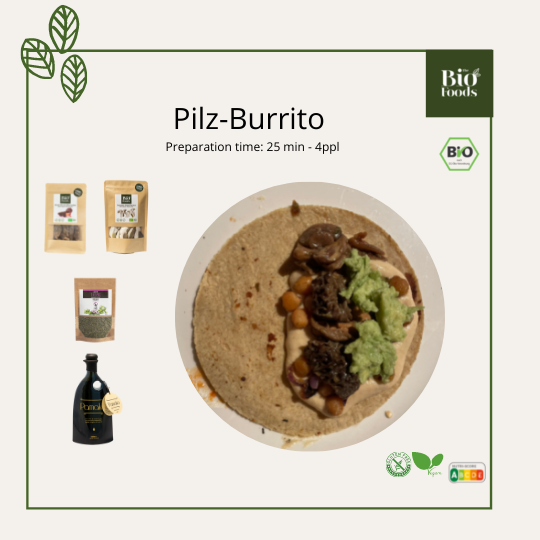 Serves 4 ppl * Preparation time: 25 minutes *
Ingredients
15g
Dried Morels
, rehydrated
25g
Premium Porcini
, rehydrated 
2 Onions, finely diced
2 Cloves Garlic, chopped 
Fine Sea Salt
Fine Ground Black Pepper
Wild Thyme 
Pamako Mono

Steps
Hydrate Dried Wild Mushrooms in hot water (cover the mushrooms). Let it stay for 15-20 minutes. Melt a bit of butter / oil in hot pan, and add onion, garlic and mushrooms. Cook until onion is translucent. Add water from mushrooms and cook until desired thickness is achieved (3-10 minutes, it depends on the taste). Season with salt, black pepper and wild thyme to taste. 
Garnish idea: premium high-quality EVOO Pamako Monovarietal on the top and enjoy - healthy and rich in flavour. 
Burrito:
Our choice for burrito ingredients:
We used gluten-free organic corn tortillas, 3 avos & homemade hummus with chickpeas. It goes perfectly well with Organic Porcini and Morels.